Summer Vegetable Calzone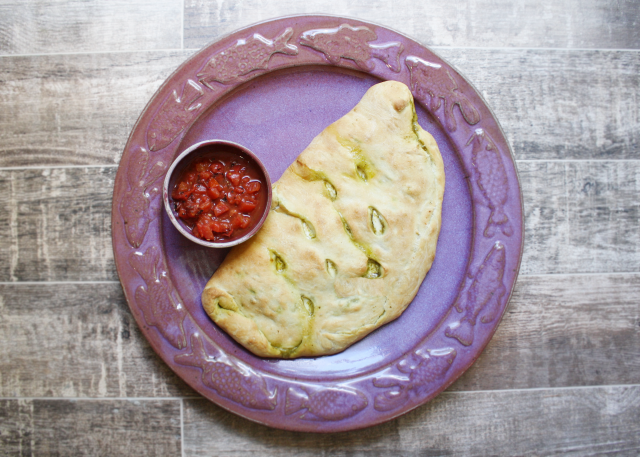 The perfect customizable summer recipe to use up your abundance of garden squash and satisfy any comfort food cravings.
1 zucchini (about 8'') sliced lengthwise in quarters, then half inch slices
2 yellow squash (about 8'') sliced lengthwise in quarters, then half inch slices
1 Vidalia onion (chopped in 3/4 '' pieces)
1/2 red onion (chopped in 1/2'' pieces)
1 red bell pepper (chopped in 3/4'' pieces)
4 tablespoons of olive oil, (plus 2 tablespoons for the pan)
1/2 teaspoon salt
1/4 teaspoon fresh cracked pepper
Optional: fresh or dried oregano, red pepper flakes
1 store-bought ball of pizza dough (or homemade)
4 tablespoons of pesto
6 ounces mozzarella (grated)
6 ounces AGED provolone grated. Note: sliced deli provolone is not as tasty.
Your favorite marinara sauce for after-bake topping. Store-bought or homemade.
Dough and Filling Prep:
Let store-bought pizza dough get to room temperature about two hours before cooking. Open the bag to let the dough expand. For homemade dough, use once risen and use as you would for your regular pizza process.
Stir fry veggies in very large skillet with olive oil, salt, and pepper. Add optional spices here. If your pan is not very big, do in two stages. The key is a medium high heat that will caramelize the veggies, reduce moisture, and create a bit of char on some of the veggies.
Once cooked, take off the heat and cool to room temperature.
Calzone Assembly:
Sprinkle about two tablespoons of olive oil onto a pizza pan. Spread the dough in oil and stretch to a round pizza size. Flip once to get oil on both sides. You may have to lift out of pan to stretch better. Place in pan.
Spread the whole circle with pesto within an inch of the edge. Mix the cheeses and sprinkle half the cheese on half of the dough (a half moon shape). Stay within one inch of edge. Mound the veggies on top of cheese, then add the remaining cheese on top. Flop the other half of the dough over your mounded half moon shape. Seal edges well to prevent leakage. Cut several vent holes in the top of calzone.
Bake at 400º for about 25 minutes in middle of oven. At this point, check if calzone is browning. You may need to move it to the top rack and bake a bit longer to get a nice golden brown. Top with your favorite marinara sauce, heated.