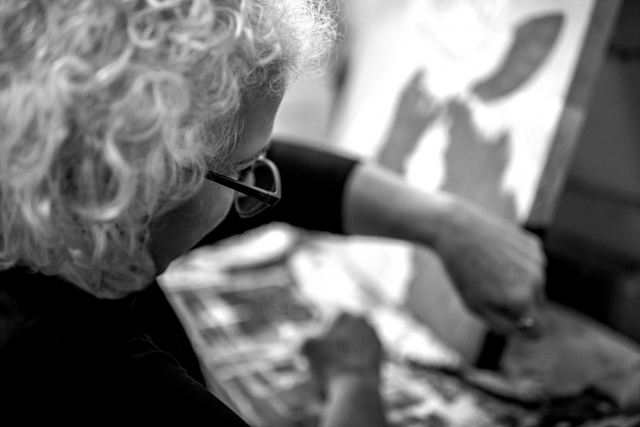 Inspired by the natural world...
"I grew up in a charming 1850 home we shared with my grandparents near Pittsburgh, PA. My grandfather, who farmed the land and raised chickens, taught me how to identify plants on our hikes together. My mother's joy in painting and the arts taught me to be visually aware, and my father's love for birds kick-started a lifelong curiosity for the expansive beauty of the bird and animal world."
Vicki's career was established with a degree in art from Penn State University, which led to work in graphic design, handmade doll creation, and professional mural painting. During her mural painting years, she developed a portfolio of hundreds of murals featuring birds, insects, animals, grasses, and wildflowers. Her experience confidently led her to move into canvas painting of the natural world. This switch, made fifteen years ago, marked the beginning of her expansive career as a fine art painter with a growing library of over 2,500 works.
"I want my work to evoke feelings of peace, joy, and often humor.
If I can move someone with my art then I have achieved my ultimate aim."
---
Licensing Companies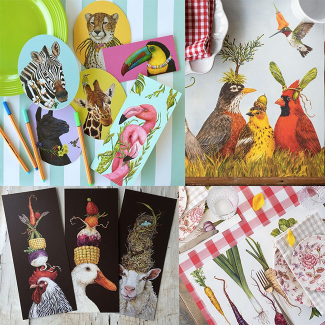 Products for your kitchen and desk.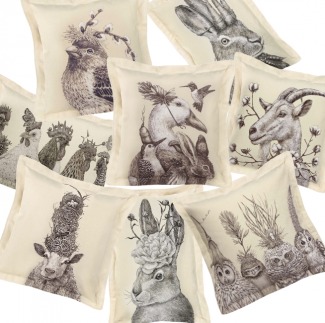 Silk screened pillows from Bucks County, PA.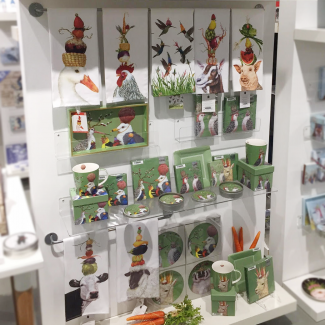 Products for your kitchen and home.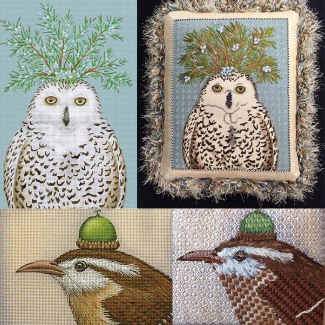 Needlepoint Canvas.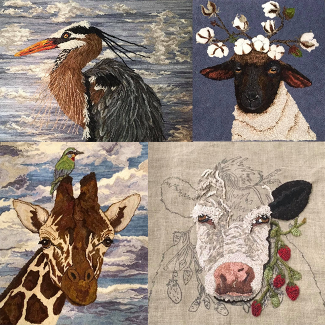 Rug Hooking Patterns.
Galleries
Some of Vicki's work is also showcased at the galleries listed below. Please contact them for more information.
Charlotte, NC
Shop Online & By Appointment
Exhibitions & Recognitions
September 3 - November 1st, 2020: "Wild and Wonderful", Reboli Center for Art and History, Long Island, NY
April 1 - May 1, 2020: "Joyful Being" Online Show, Featured Artist, Lark & Key, Charolette, NC
2018 (June): Solo Show, Gallery 202, Franklin, TN
2017 (September): Solo Show, Reboli Center, Long Island, NY
2017 (April): Solo Show, Lark and Key Gallery, Charlotte, NC
2015 - 2019: Gallery Artist, Gallery 2828, Online Gallery
2015: Oprah's Favorite Things!
2014 - Present: Gallery Artist, Gallery 202, Franklin, TN
2014: Featured Artist, Webb School Annual ArtXtravaganza, Knoxville, TN
2014 - 2018: Gallery Artist, Huntsville Museum of Art gift store, Huntsville, TN
2012 - 2015: Gallery Artist, Watson MacRae Gallery, Sanibel, FL
2011 - 2012: Gallery Artist, Kohala Coast Fine Art, Waikoloa, HI
2011 - 2017: Participating Artist, Annual Museum Gala, Huntsville Museum of Art, Huntsville, AL
2011: Featured Artist, Vignettes Show, Huntsville Museum of Art, Huntsville, AL
2010 - Present: Participating Artist, Tri-Annual Exhibition, Lark and Key Gallery, Charlotte, NC
2009 - 2018: Gallery Artist, Art and Invention Gallery, East Nashville, TN
2009 - 2014: Participating Artist, Webb School Annual ArtXtravaganza, Knoxville, TN
2009 - 2014: Gallery Artist, York and Friends Fine Art, Nashville, TN
2009 - 2012: Gallery Artist, The Iron Gate, Franklin, TN
2009 - 2011: Gallery Artist, Turtle Hill Gallery, Gatlinburg, TN
2008 - 2013: Participating Artist, Harding Academy Annual Art Show, Nashville, TN
2008 - 2012: Gallery Artist, Ruthie Cherry Gallery, Nashville, TN
2007 - 2014: Gallery Artist, Chameleon, Newburyport, MA
2007 - 2012: Gallery Artist, Dragonfly Gallery, Fayetteville, TN
2007 - 2012: Participating Artist, Annual Exhibition, The Dragonfly Gallery, Fayetteville, TN
2007: Participating Artist, Parade of Homes, Hendersonville, TN
2006 - 2018: Participating Artist, Tomato Arts Festival, Art and Invention Gallery, East Nashville, TN
2005 - 2012: Participating Artist, Brentwood Academy's Annual Fine Art Show, Brentwood, TN
2004: Solo Exhibition, The Helen Figge Moss Gallery, Stony Brook, NY
1999 - 2000: Annual Outdoor Art Show, Gallery North, Setauket, NY
1999: Participating Artist, Local Color Show, Gallery North, Setauket, NY
1998 - 2007: Muralist, New York, NY, Philadelphia, PA, Boston, MA, and Long Island, NY
1998 - 2008: Participating Artist, Annual Holiday Art Exhibit, Long Island Museums, Stony Brook, NY
1998 - 2000: Participating Artist, Special Projects, The School of Visual Arts, New York, NY