THE Shrimp Chowder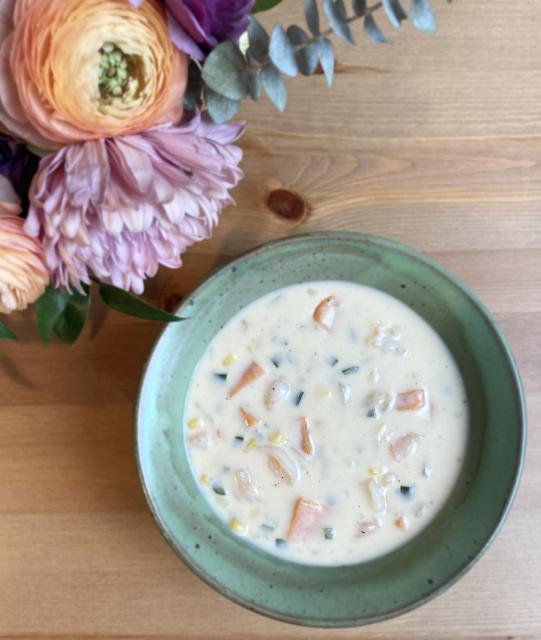 Serves Approx. 6-8
1 tbsp Olive Oil
1 Vidalia onion, diced
1 pound shrimp, cubed (can be frozen and thawed)
1 16 oz pack frozen sweet corn
2 cups sweet potatoes, peeled and diced (~2 sweet potatoes)
2 poblano peppers, seeded and diced
2 cups water
2 tbsp fish sauce
1 tbsp Tabasco sauce
1 tsp salt
Black pepper to taste
2 cups 1 % milk
1 quart half & half
1 cup flour
Start by creating the cream mixture by combining the water, fish sauce, Tabasco sauce, salt, a pinch of black pepper, half & half, milk, and flour in big bowl and whisk until incorporated. Set aside.
Heat a heavy pot over medium heat and pour in the olive oil. Once the oil is hot, add all the vegetables and sweat covered, for approximately 10 minutes. Stir occasionally.
Whisk the cream mixture into the vegetables and bring it to a simmer. Simmer for approximately 15 minutes while stirring frequently until mixture begins to thicken.
Add the shrimp and cook until tender, approx. 5-8 minutes. Stir frequently. Season with more salt and pepper to your taste.