Roasted Beet Hummus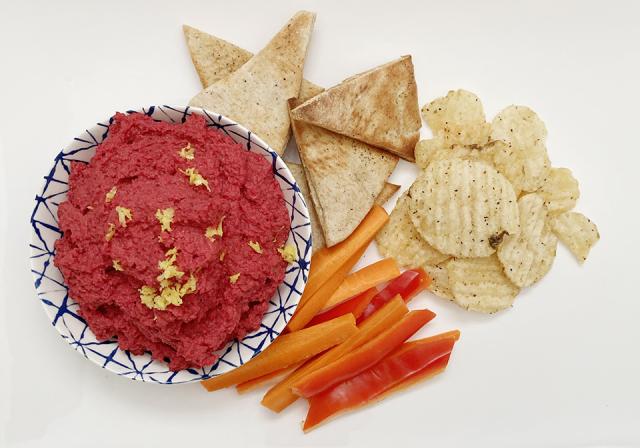 3 medium sized beets
2 cans chickpeas, drained
2/3 cup tahini
1/3 cup olive oil
1 cup water left over from boiling the chickpeas
Juice of 2 lemons
Zest of one lemon
3 cloves of garlic, crushed
1 teaspoon salt
Preheat oven to 400 degrees.
Prepare the beets for roasting by cutting off their stems and peeling them, then chopping them into roughly 1" cubes. Place the cubes into a roasting pan and drizzle with olive oil, salt, and pepper. Cook the cubes until they are tender and slightly crispy on some edges. About 45-50 min. Once cooked, remove and cool the beets.
While the beets are cooking, place the chickpeas in a medium pot and cover with water by 1". Bring to a boil over high heat, then reduce heat to medium-low and simmer, undisturbed, until chickpeas start falling apart, about 20 minutes. Reserve 1 cup cooking liquid, then drain chickpeas.
Put all the ingredients in a blender except 2/3 cup of the chickpea water and the zest.
Blend until creamy with a good hummus texture and then stir in the zest. Here is where you can adjust to your preferred thickness by adding some additional chickpea water or leaving it as is.
Serve with crudite' and/or pita chips.
Makes about 2 1/2 cups.