The Peach Melba Trifle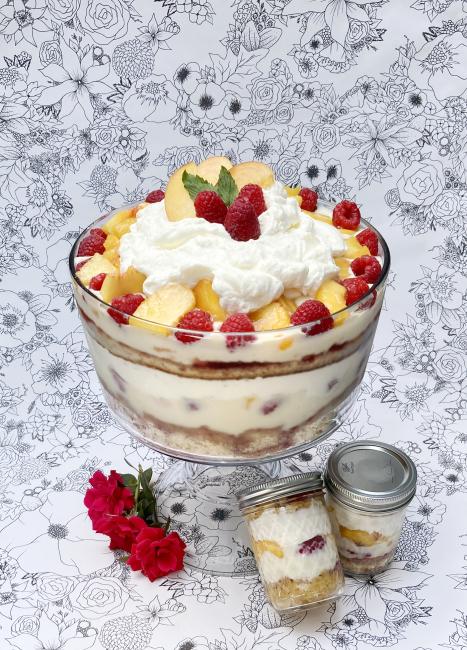 This recipe was created based on the classic 'Peach Melba' flavors (a peach and raspberry mixture), enhanced with an almond cake, and transformed into a decadent trifle. It is the perfect dessert for your ripe peaches, and a beautiful addition to any celebration. For a smaller picnic dessert, cut the recipe in half and layer some mason jars with the ingredients. Get ready to be the party favorite!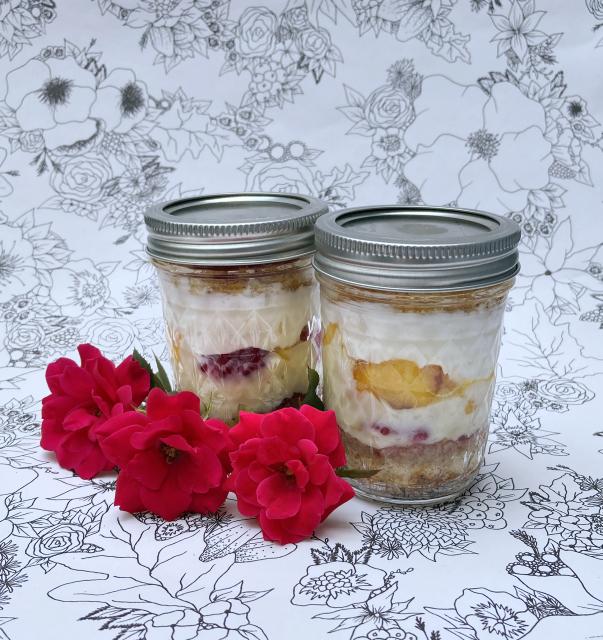 Ingredients:
Peaches:
7 freestone peaches
1/2 lime
2-3 tbsp sugar
Almond Cake using Solo® Almond Cake & Pastry Filling: *the original recipe for this almond cake can be found inside the paper label on the Solo® can. We have adjusted the recipe below slightly for our liking. Either recipe will work.
3 eggs, separated
3/4 cup room temperature butter
1/2 cup sugar
1 12oz can of Solo® Almond Cake & Pastry filling
2 1/4 cups all purpose flour
2 teaspoons baking powder
1/2 tsp salt
1/4 cup milk
Raspberry + Chambord Mixture:
4 tbsp seedless raspberry jam
1/2 cup Chambord Liqueur
Creme Filling:
This filling can be made in a variety of different ways but should equal 4 cups of filling. Our suggestions would be either using your favorite creme patisserie recipe, Bird's® custard powder, or instant vanilla pudding.
4 cups of your choice creme filling
1/4 tsp Almond Extract added to your choice filling
Whipping Cream:
2 cups heavy whipping cream
1 tbsp powdered sugar
Raspberries:
Baking & Assembly:
Peach Preparation: Take 6 peaches (save the 7th for decoration later) and peel them by dropping them in boiling water for 30 seconds, remove and drop into large bowl of ice water. They should be easy to peel now by hand or peeler. Slice peaches in half, remove their pits, and slice each half into 8 slices cut in half (easy for a spoonful bite). Macerate the peaches for about 2 hours in the fridge by placing the pieces into a container and covering with your sugar and lime. Make sure to stir them half way through to make sure the sugar and lime coat the pieces.
Almond Cake: preheat the oven to 350 degrees F. Grease and flour two 8" cake pans. You can also use parchment paper cut in a circle for the bottoms. Separate the egg yolks from the whites. Save the yolks and beat the egg whites in a medium bowl until they have soft peaks. Set aside. Beat the butter and granulated sugar in a large bowl with an electric mixer until light and fluffy. Beat in the egg yolks. Beat in the Solo® almond filling until blended. Stir flour, baking powder, and salt until mixed in a separate bowl. Add to almond mixture alternately with milk, beginning and ending with dry ingredients. Gently fold the egg whites into the batter. Spread the batter evenly in the prepared pans. Bake for about 25 - 30 min, checking at 15/20 min. Cool the cake for about 10 min and run a knife along the edges to loosen the cake. Invert pans onto cooling racks to release from pans. Turn the cake and poke with a toothpick all over the top to allow for the Raspberry/Chambord mixture to absorb in with ease.
Raspberry/Chambord Mixture: Mix together the seedless raspberry jam and Chambord in a small bowl. Once mixed, brush on top of your cakes evenly.
Creme Filling: Create your 4 - 5 cups of creme filling based on your preference of type (see ingredients for note). Add the almond extract to your filling.
Whipped Cream: Whip your cream with the powdered sugar.
Assembly: Place one cake in bottom of trifle dish, then spread with 1/2 of the custard, then space fresh raspberries about an inch space between them against side of dish. Place 1/2 of peaches inside the raspberry border. Spread 1/2 of the whipped cream on top of peaches. Place second cake layer on top of cream. Now add layer of custard, layer of fruit, and a large dollop of cream. Decorate with fresh peach slices (peel on) and some raspberries to your liking. Serves about 15-20.