Kristi's Go-To Chili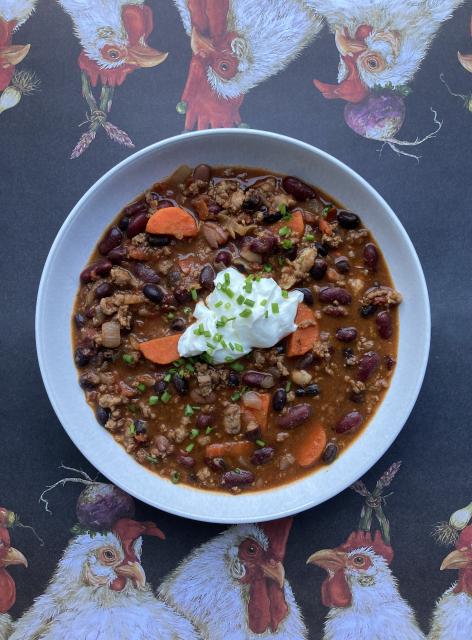 Serves approx. 6-8
1 tbsp oil (olive or neutral)
1 large onion, chopped
2 large carrots, diced
1 lb mild Italian sausage 
1 lb ground beef
2 tsp garlic powder 
2 tbsp mild chili powder
3 tbsp good taco seasoning (we recommend Savory Spices taco seasoning mix)
Salt Addition (choose 1): 3 beef bouillon cubes or 1 tbsp beef better than bouillon or 2 tsp salt 
1 15.5 Black Beans (not rinsed)
1 15.5 Kidney Beans (not rinsed)
1 15.5 Chili Beans (not rinsed)
1 28oz can Crushed Tomatoes
1 cup water (poured into the empty crushed tomato can to rinse any leftover juices)
In a large pot, heat oil and then add your onions and carrots. Sweat with salt and pepper for about 3-5 min. Add both meats and break into small pieces while browning. Brown for about 5 min. Stir in the garlic powder, mild chili powder, good taco seasoning, and the salt addition (either beef bouillon, or salt). Add all three bean types as well as the crushed tomatoes. Add 1 cup of water to the pot by first pouring it in the empty crushed tomato with the water then pouring it into the chili. This will ensure the use of any leftover tomato juices.
Pop the lid on and simmer over medium low heat for at least an hour.
Enjoy topped with sour cream or greek yogurt, chives, and your favorite corn bread!