Cheesecake Bars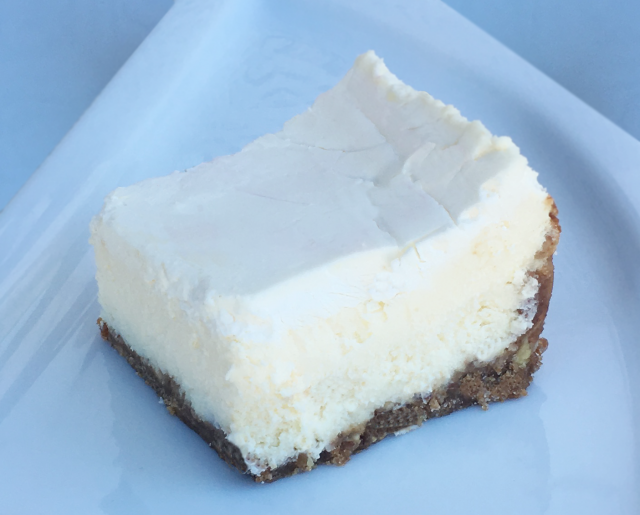 Crust
One box of graham crackers plus 4 crackers, crushed into crumbs (You can substitute the extra 4 grahams with 12 ritz or townhouse crackers to add a saltiness.)
1 cup of ground roasted almonds
1/2 cup sugar
2 t cinnamon
2 1/2 sticks butter (melted)
Filling
6 eggs
1 and 1/4 cups sugar
6 eight ounce packages cream cheese (softened)
1 and 1/2 T lemon juice
1 t kosher salt
Topping
2 pints sour cream
2 t vanilla or one scraped vanilla bean
1/2 cup sugar
Preheat the oven to 375°. Use a large 10'' x 15'' roasting pan.

Prepare the crust by stirring together the dry ingredients and then streaming in the melted butter while stirring until the crumbs are thoroughly moistened by the butter. Press the crust into a large 10'' x 15'' roasting pan, pressing the mixture up the sides of the pan about 1 inch.

For the filling, beat the eggs on high while slowly adding sugar into the mixture until it is light colored, thick and fluffy. On medium speed, slowly add the softened cream cheese, lemon juice and salt. Mix until there are no lumps remaining. Pour the filling into the crust and bake for about 35 minutes or until the top is not jiggly.

While the cheesecake is baking, stir together the topping ingredients until homogenous.
Remove the cheesecake from the oven and turn the temperature up to 425°. Spread the topping over the cake.

Bake the cake for ten minutes, then turn off the oven and allow the cake to sit in the warm oven for another ten minutes. Take out and cool to room temperature. Once the cheesecake has reached room temperature, cover and refrigerate overnight.